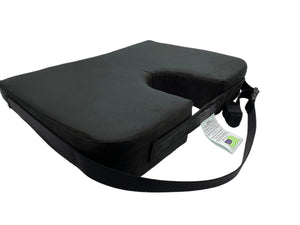 Trucker Tush-Cush® The Original 14" x 18" (Has Straps)
Regular price $65.50 Sale
Product Overview
The Trucker Tush-Cush® orthopedic seat cushion is scientifically designed to relieve and prevent back pain, sciatica, and other discomforts associated with sitting and driving. The unique cut-out section of the cushion suspends the tailbone providing comfort and relief to areas sensitive to sitting. The wedge shape tilts your pelvis forward to restore your spines' natural lumbar curve. The adjustable straps hold the cushion in place for easy entry and exit of vehicle.
Our cushion is made of the highest quality foam to maintain the integrity of the wedge and give you the best support possible every time you sit. Made in the USA.
Product Features
Suspends the tailbone, reducing the pressure on and within the lower spinal discs.
Naturally assists the pelvis to tip forward to help restore the spine's natural lumbar curve.
Provides excellent sitting comfort. The cutout section of the cushion allows comfort and relief of pain to areas sensitive to sitting for short or prolong periods of time.
Microsuede covers are 100% cold hand washable.
Executive covers (faux leather) are made of a breathable vinyl and can easily be wiped clean.
Polyurethane "The Original" foam is hypoallergenic, non-latex, and does not degrade - we do not use latex, memory foam or gel in our products. Rated for customers under 200lbs. For customers 200lbs or more, please select Extra Firm Trucker Tush Cush.
Fully adjustable straps with sturdy clasp to secure as well as stabilize the cushion on the seat and accommodate the constant entering and exiting of the vehicle. 

Fits perfectly in a semi-truck with a cushion measurement of 14" by 18".
Medical quality polyurethane foam

 does not degrade and is nonallergenic



Product Dimensions
Depth: 14″
Width: 18″
Height: 3″ in the back tapering down 1″ in the front.
Weight: 1.5 lbs.
Slight variation in actual size may occur as all covers and foam are cut to exact size specification and the foam insertion may cause slight size variance.
The Tush-Cush® is the original design of the wedge-shaped cushion with cutout. During the 30 years that we have been in business there have been many attempts to replicate our product. Often imitated, NEVER duplicated and we are made in the USA.

Returns and Exchanges: 
Tush-Cush Product Exchange and Product Return
Kinetic Diversified Industries, Inc. (KDI) offers a 30-day money back guarantee from date on invoice or packing slip on products that are in unused, clean, and original condition. You must request a Return Authorization (RTA) number prior to shipping the product back to KDI. We do not issue call tags or return labels.
 For Return Authorization (RTA) - Contact Tush-Cush Customer Service:
Email: Kdi.tushcush@gmail.com
Phone: 1(619) 933-8044 (Monday – Friday 9 AM to 1 PM PST
Return the item in its original packaging in the same condition you received it in, along with the completed RTA number, reason for return, and the original, dated receipt or packing slip, for a refund of the product price, less shipping and a 15% restocking fee
Note: If the item had free shipping at time of purchase, the actual shipping charges will be deducted prior to refunding. Shipping is a service and not refundable for any order.
Exchange of Received Product: An exchange within 30 days of purchase is possible as long as the item is in its original packaging in the same condition you received it in. You will be required to return the original item by requesting an RTA number and include that number in your shipment of the item(s) back to:
 KDI
P.O. Box 2147
Lakeside, CA 92040
 Once the item is received by KDI, a shipping invoice for the new product will be sent online to you for payment. Once paid, your new requested product will be shipped to you.